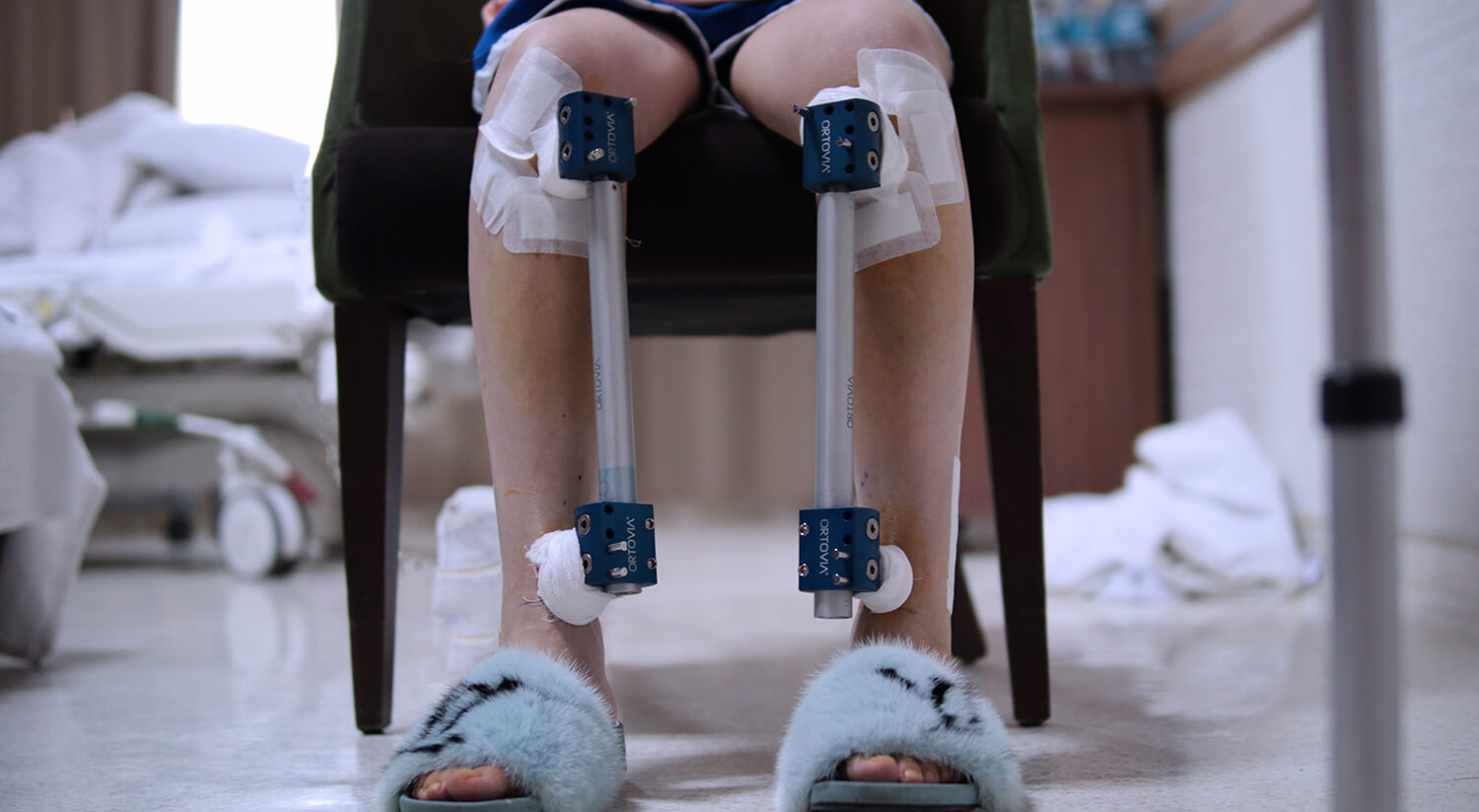 Lengthening Over Nail (LON) – The Combined Method
An extended time of external fixation is necessary for limb lengthening with an external fixator, especially considering the Ilizarov technique. Fortunately, "Limb lengthening over an intramedullary nail", in other words, "The Combined Method" is appeared to be an effective way to shorten the time required for external fixation, eliminate axial distortions and enable early rehabilitation.
There are two devices utilized in the LON method: external fixators and internal fixators. Through the use of pins, the external devices are attached to the bone from outside the leg. The internal devices are inserted in the medullar cavity of the bone. Afterward, interlocking screws are implanted in the nail in order to stabilize the bone.
Advantages of Limb Lengthening Surgery LON Method
Mechanical stability
Low and affordable cost
Allowing to give partial weight-bearing during the lengthening phase
Short duration of keeping external fixators
Disadvantages of Limb Lengthening Surgery with LON Method
High infection risk compared to internal methods
Use of bulky external devices
Having more pinhole scars than internal methods
There are 5 phases in limb lengthening with the LON method, and in each phase, you will see the steps in a timeline;
Pre-operative
Day 1-2:
Being welcomed by your caretaker at the airport
Checking in at the hotel and resting
Meeting and having a face-to-face consultation
Pre-op medical tests and Taking Orthorentgenogram X-ray
Physical examination to assess flexibility and nail measurement to ensure the optimum size
Having complimentary Istanbul Tour to let your hair down
Day 3: The Big Day!
Day 4: Follow-up visit by the surgeon and a short-walk
Day 5: Receiving physical therapy
Day 6: Relaxing
Day 7: Receiving physical and demonstration for lengthening
Day 8: Being discharged with a private ambulance
Post-operative (Lengthening Phase)
Day 9: Begining of distraction (1 mm per day for LON and 0,99 mm for Precice 2)
Day 10-90: The duration of the lengthening phase may vary depending on the planned amount of height achievement. In this course of time, the number of physiotherapy sessions is determined considering your general status. This phase is significant to regain mobility and functionality. You will be allowed to give partial weight bearing with the assistance of a walker and use a wheelchair. Necessary medical care and painkillers will be provided throughout the lengthening phase. Follow-up visits will be done at the facility. X-rays are taken on a regular basis as well to ensure that early signs of potential complications can be caught in advance, and preventative measures are taken accordingly.
Day 90-110: Once sufficient bone consolidation appears on the X-ray, the device removal surgery is taken place in a very short time. (If there is a delay in bone consolidation, the duration to keep the fixators can be prolonged)
Recovery phase (Bone-healing/Returning to Daily life)
Day 110-475:In this phase, patients are required to send X-rays at regular intervals so that the bone healing progress can be evaluated remotely. After the device (external) removal surgery, they are asked to use a walker & crutches for about two months, and then, walk unaided. Doing any heavy physical exercise and sports are strictly not advised until the surgeon gives approval. Apart from these, they can return to their daily routines or work life freely.
*Please note that the information and the duration shared in the timeline are to give an overall insight regarding the limb lengthening process. The process can be completed early or later than it is anticipated depending on the circumstances and amount of elongation planned to be achieved!